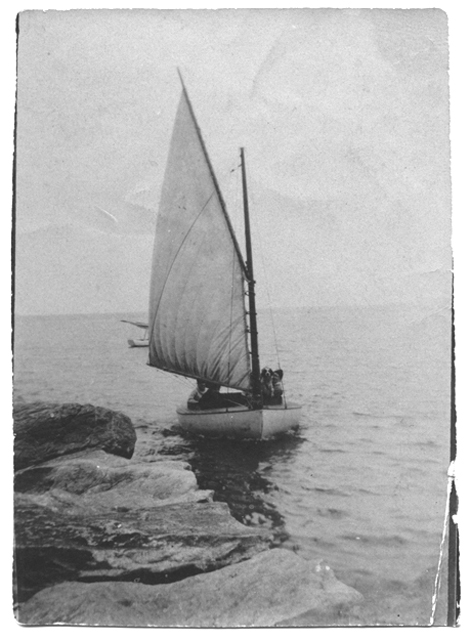 A-sailing Down Jones River
Do you recall one night in June,
When sailing down Jones River,
We listened to the Bullfrog's tune
And watched the moonbeams quiver?
I oft since then have watched the moon
But never, love, ah never, never,
Can I forget that night in June
While sailing down Jones River.
Can I forget that night in June
While sailing down Jones River.
Can I forget that night in June
While sailing down Jones River.
Can I forget that night in June
And the moonlight on Jones River
Our boat went drifting toward the Bay,
By the wharves along the river,
Those old, old wharves where the good ships lay,
In the days now gone forever.
The busy hum of toil is o'er;
On the ways no ships were standing, standing
Holmes, Cushman, Bartlett, Drew, were gone;
All silent lay The Landing.
Can I forget that night in June
When sailing down Jones River?
Can I forget that Bullfrog's tune
And the moonlight on Jones River?
Catherine Drew Russell
It was customary in earlier days for boating parties in the river or out into the Bay, to drift and sing. Moonlight parties were especially popular. Popular tunes of the day were often sung with original words, like the above, following the general idea of the song but adapted to the mood of the party. Miss Russell was very apt at impromptu rhyming and this is one of the songs composed at the time and recalled in later years. We used the song with its original music at the meeting of the Jones River Village Club, when Miss Russell gave her Musical Reminiscences of Kingston, with different members assisting in the vocal and instrumental examples. E.F.D. [Emily Fuller Drew]
Sources: IC-11 Delano Photograph Collection; PC-36 Poetry