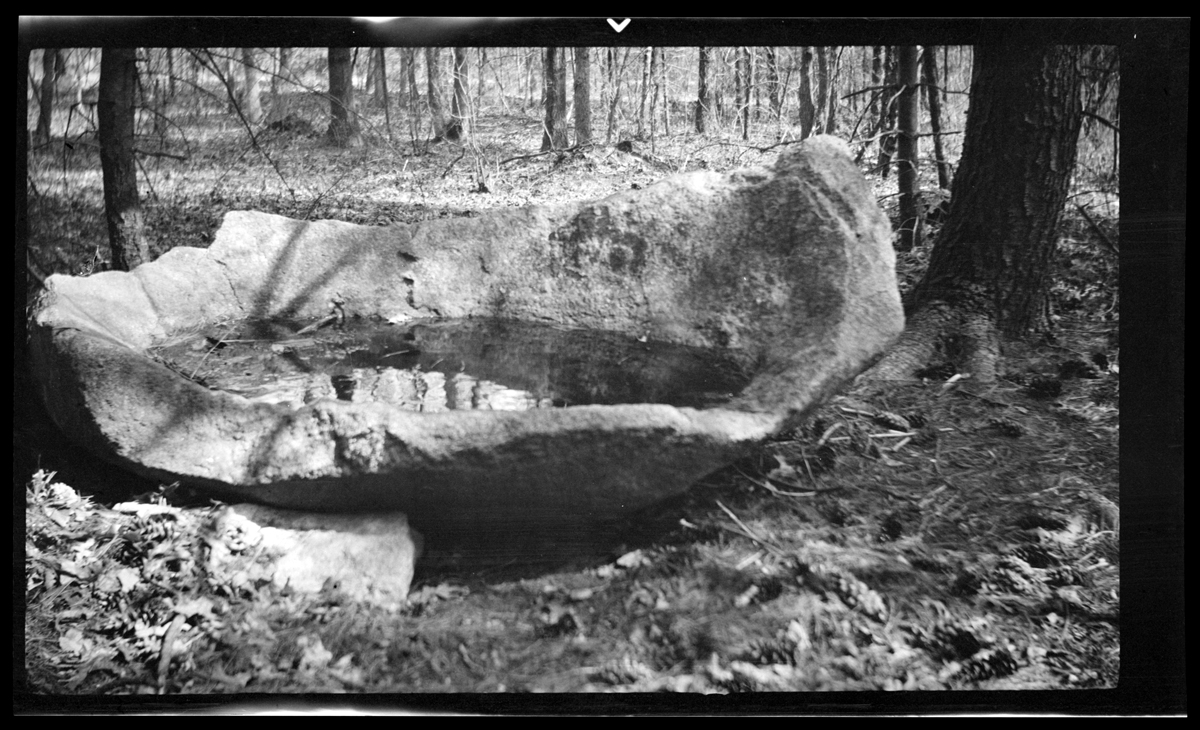 These two negatives have no accompanying information whatsoever, but the intriguing rock formation may be the result of the glaciers that covered the area about 23,000 years ago, and could well show one of the "punch bowls" Emily Fuller Drew wrote about in her 1933 notes on places around town.
The Punch Bowls have almost disappeared, from the top of Stony Brook Hill. They were of glacial origin, huge bowls or "scouts" in the sandy glacial "dump". Five of them where located within a short distance of Prouty's Garage. The largest was where A.S. Parker's Ice Cream stand is, north of Prouty's Garage. This was used as a public dump for years, without making much impression on the hollow, then the stumps and trunks of the beautiful elm trees taken from Stony Brook Hill when the highway was "improved" were thrown there, and later material was brought from other place and the great bowl entirely filled in to make the yard which goes with the Parker place.

Two others, twin bowls, stood on the east (right hand) side of Tremont Street, beyond Prouty's Garage. One of these was filled in, and the new construction caused by the widening and straightening of the road at that point completely obliterated it. The other, not noticeable from the highway because it is masked by a good growth of pine trees, probably still exists. A shallow one is being used as a public dump behind the "Garden of Allah Coffee House", in the development called "Fort Payne". The fifth is behind the house of Mr. Charles Childs at the top of Stony Brook Hill. All these Punch Bowls, almost perfect shape, were caused by the swirling of ice and water in the glacial period, of which Kingston has other interesting evidence.
Source: Emily Fuller Drew Collection MC16
For more, visit the Kingston Public Library, and the Local History Room, and the full blog at piqueoftheweek.wordpress.com