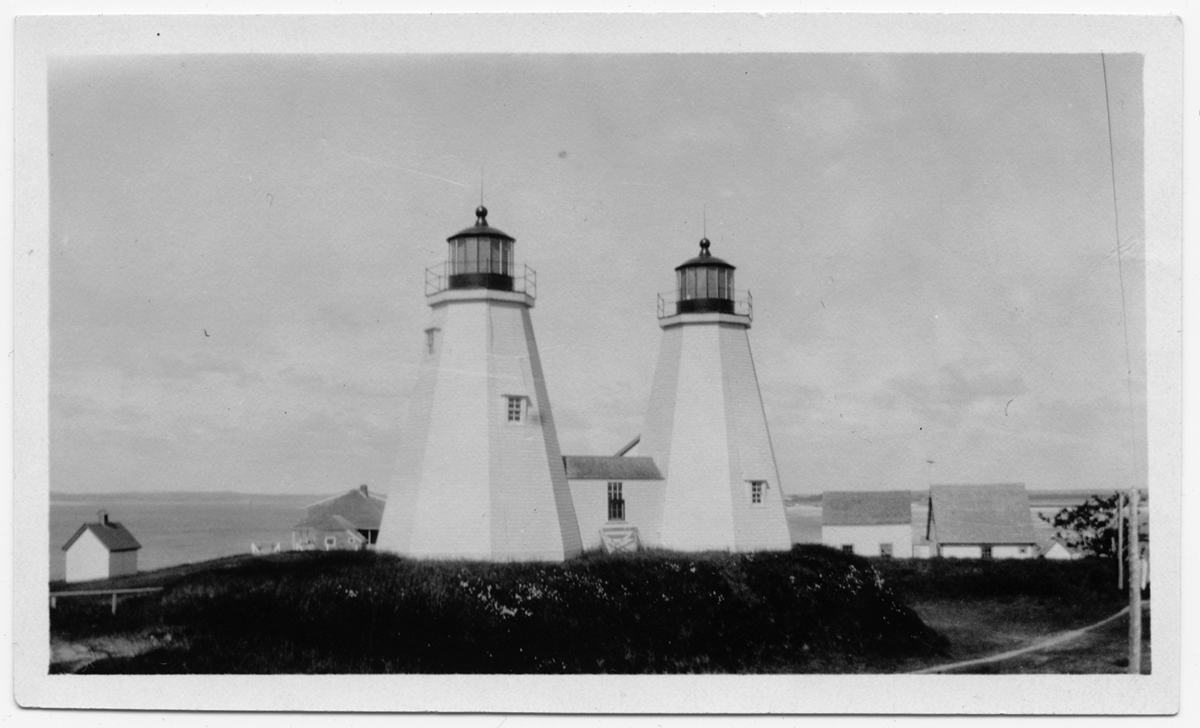 Though not in town, the lighthouse at the Gurnet — formally known as the Plymouth Light Station — is familiar to many Kingstonians.
The Massachusetts legislature authorized the first lighthouse on the Gurnet in 1768;  it burned to the ground in 1801.  The federal government replaced the original with a pair of towers, which served for the next 41 years.   Our photo shows the twin wooden towers built in 1842 to replace the earlier pair.  The two lights stood together until 1924, when the northeast tower was taken down.
The current tower stands 39 feet tall, 102 feet above water; it is wood framed and shingled. The light flashes an alternating single, then double white every 20 seconds, with a red sector marking the Mary Ann Rocks.  In 1977, the light was placed on the National Register of Historic Places. It is the oldest freestanding wooden lighthouse in the United States.
In 1997, the Coast Guard moved the remaining tower 140 feet north, away from the eroding cliff. Two years later, the light was turned over to the nonprofit  Project Gurnet & Bug Lights Inc., which manages the two.
Sources: Photo from the MC21 Hathaway Collection; text from the "Plymouth Light" Wikipedia entry, a report from the Coast Guard Historian's Office, an article on Lighthouse Friends, and the Project Gurnet site noted above.
For more, visit the Kingston Public Library, and the Local History Room, and the full blog at piqueoftheweek.wordpress.com.