October 19 marks the 100th anniversary of St. Joseph's Parish in Kingston.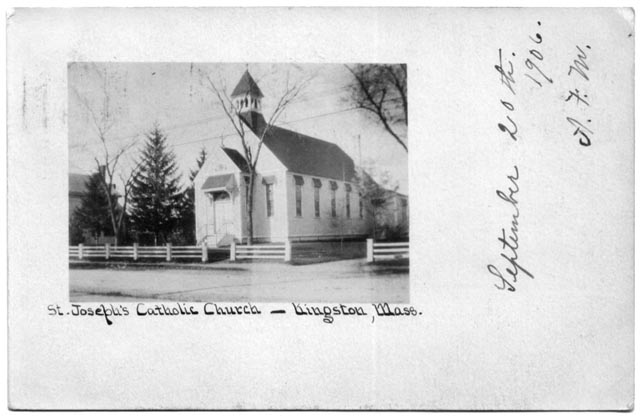 This postcard shows the Church's first building at 261 Main St. Mailed from Middleboro and postmarked 9/21/1906, the card was sent to Miss Nellie McGinn who lived in Brighton, MA.  Built in 1882, the building was originally a mission chapel of St. Peter's church in Plymouth, At that time, St. Peter's served Catholics in Carver, Plympton, Duxbury, Hanson, and Marshfield in addition to Kingston and Plymouth.  The earliest Catholic Masses in Kingston were celebrated sometime in the 1850's for one of the first Irish families who were tenants living in the historic Bradford House on Landing Road. The mission to St. Peter's was created in 1873.
Today, this building houses St. Mark of Ephesus Orthodox Church.
The name St. Joseph's was adopted later, perhaps when the independent parish was established in 1908.  The present-day St. Joseph's was built further up Main Street at 272, and was dedicated on December 1, 1935.  This 2008 shot shows Our Lady's Hall, the new parish center dedicated on May 13, 2006.