The Railroad Bridge over Howland's Lane
Mr. Isaac Hedges, shown in this snapshot and identified on the back by Emily Drew, was one of the incorporators and later one of the directors of the Old Colony Railroad, as reported in the Nov. 7, 1919 issue of the Old Colony Memorial.  This particular photograph is undated, but it was likely taken in the 1870's, or perhaps even earlier.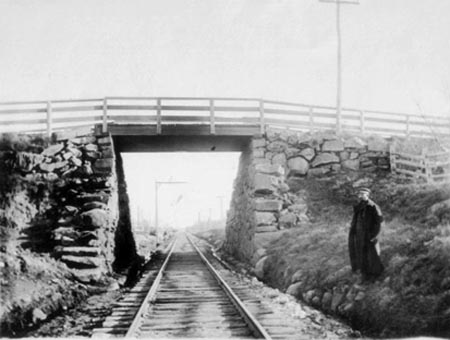 The first run on the Boston-Plymouth line was Nov. 10, 1845; there would be two runs that day. By 1849, there were 15 locomotives, 4 baggage cars, 158 freight cars and 4 snowplows busy along the South Shore. The line has been running since, with only a few years of disuse.
We don't know when the Howland's Lane bridge over the tracks was built, but in 1998, the Patriot-Ledger reported it standing for at least 60 years.  In 1999, it was to be rebuilt — made higher to accomodate the double-decker passenger cars on the current commuter service — but area residents thought this would make the neighborhood unmanageable and the project was not done.  In 2008, however, the wooden planks that will be repaired.
Here's another early but still undated view of an unpaved Howland's Lane, looking towards Main Street. The buildings at right are no longer standing; the house at left is 59 Main Street.