G.E. Cushman's delivery wagon and John White the horse, circa 1900

Even before the days of online ordering and overnight shipping, groceries and other necessities could appear at your door on demand, delivered perhaps by the horse-drawn wagons of Kingston merchant George E. Cushman. From 1864 when he began clerking in Azel Sampson's dry goods store at 196 Main Street to 1919 when he retired from his own establishment across the street at 193 Main, Cushman sold groceries, flour, grain, candy, yard goods, drugs, boots and shoes. During much of that time, the store also housed the post office, with Cushman served as the assistant postmaster.
The wagon above sports a proud sailing vessel, homage to Kingston's shipbuilding heritage, while the one below displays a peaceful rural road, testament to the town's bucolic character.  As one of a number of competing retailers in town, Cushman may have added a competitive edge with these  elegantly decorated wagons.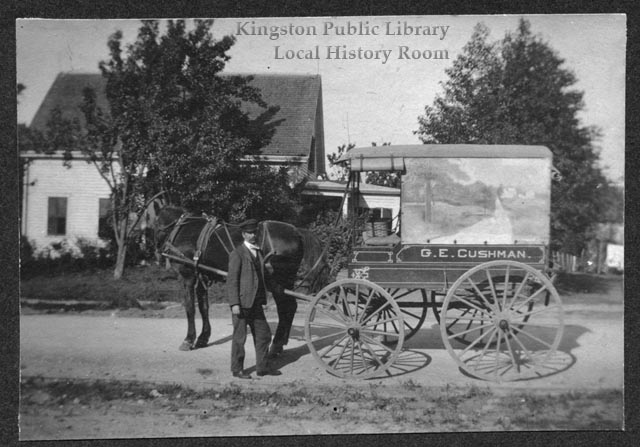 Sources: Photos from the Margaret Warnsman Collection; other information from House Histories, Vertical File: Businesses, and the Eleanor Loring Cole Collection.