In honor of Throwback Thursday, let's take a look back at a moment in Kingston's past!
Over 140 years ago, William H. Myrick of Kingston entered the tinsmith's business, and his first shop was located on Summer Street. Emily Fuller Drew, a Kingston resident and the creator of the lantern slide shown above, kept a card file of valuable information about the images she took. The file for this image reads:
55. Myrick's Tin Shop & Cart, 1876

Building used previously as a finishing shop for augers by "Uncle" Nahum Bailey. Such work as did not require water power, such as filing and hand polishing, could be done here. All else was done at the Stony Brook Mill. The work, or the use of the building, antedates that at the Mill (1805). Later Myrick (Wm. H.) used, as shown, as tin shop and stove works. The tin car went the rounds of the outlying districts, serving the more distant farm-wives, bartering tinware and the like for eggs, fowl and other farm produce.
She expands on her description in her notebooks, explaining:
The tin cart was always a curious sight, especially when it started out in the morning from the shop. Tinware, brooms, wooden buckets and other wares hung from every conceivable spot, so that "those who ran" might see. At first only metals wares were carried, but soon all sorts of household conveniences were added, and they became small departments stores in themselves…Mr. Myrick built up quite a business, of tinware, later stoves and furnace heating equipment. He soon outgrew his small shop with metal ware and stoves alone; then he built in 1878 the block at the corner of Summer and Evergreen Street, which bears his name, and increased his business to correspond.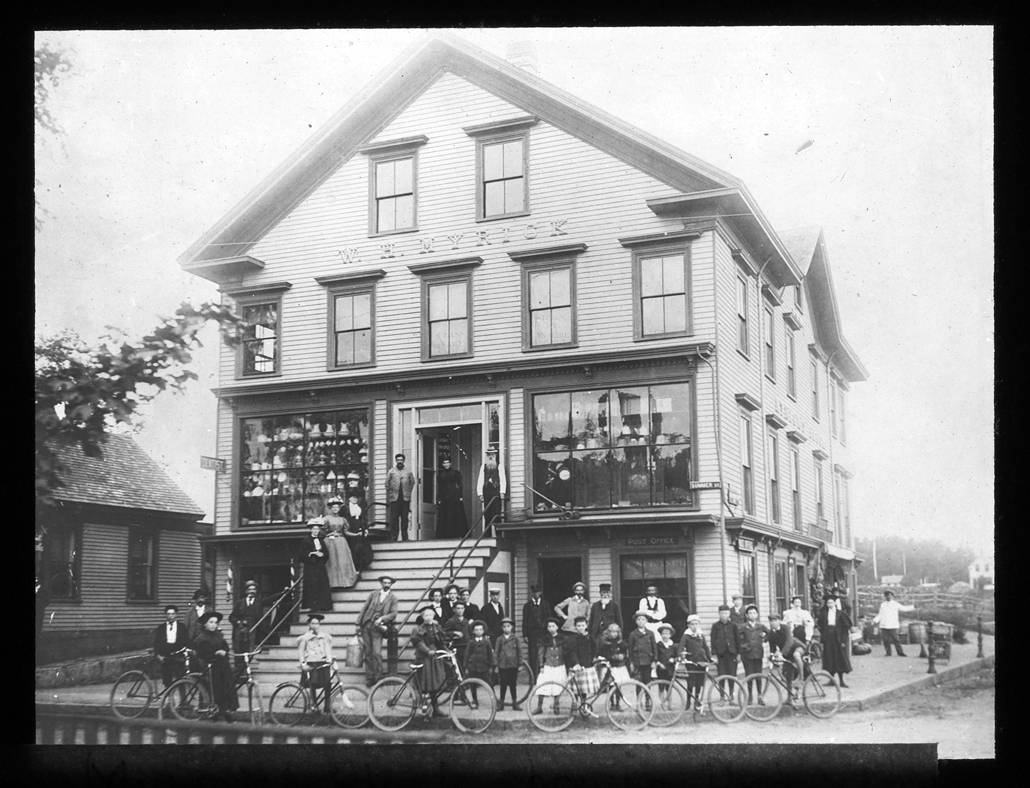 As you can see, this building was a great improvement! Myrick's store was on the second floor, while the post office, O. B. Cole's Apothecary, Cantori's fruit store, and Stegmaier's Barber Shop were on the ground floor. The building even had a dentist, Dr. A. C. Woodward. In this image, William Myrick Sr. and William Myrick Jr. are both standing on the top steps.
Myrick's Block was eventually moved from its location at 48 Summer Street to 78 Evergreen Street by Edgar W. Loring, Inc. for use in his wood, coal, and cranberry business around 1940. The building is now occupied by Kingston Sheet Metal.
Both of these images are part of the Jones River Village Historical Society's collection here in the Local History Room. As always, if you have any questions or comments about Kingston history, you can send us an email at history@kingstonpubliclibrary.org. You can also visit the Jones River Village Historical Society's website for current information about the Major John Bradford Homestead and the group, including membership and events.
Source: Text from Emily Fuller Drew's lantern slide card file and notebooks; images from Jones River Village Historical Society Lantern Slides IC4. Scanned with LSTA funds through the Massachusetts Board of Library Commissioners and digitized at the Boston Public Library in conjunction with the Digital Commonwealth)
For more, visit the Kingston Public Library, and the Local History Room, and the full blog at piqueoftheweek.wordpress.com.