Thinking of those who are under-represented in archival collections, of the undocumented figures of history,  hermits have to be in the top ten, right?  That just doesn't seem right, so…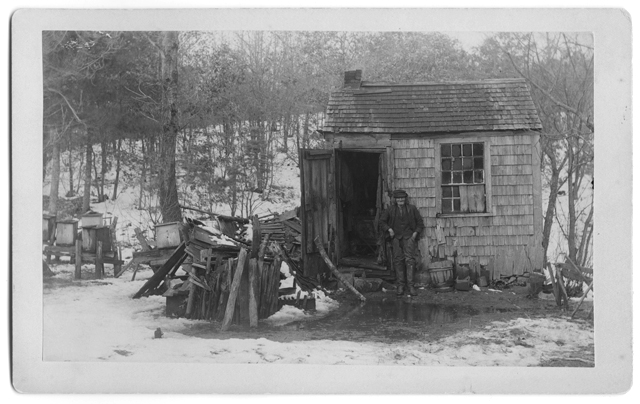 here's the story of Kingston's famous hermit, drawn from a cabinet card, a few entries in town records, a newspaper article, a hand-written rebuttal and an anonymous letter.
Vital records provide the bare bones of biography: Daniel Weston Fuller was born to Consider and Hannah (Eaton) Fuller on January 5, 1812 and died of pneumonia on June 7, 1894, the year after his story was published in the Boston Journal.
In 1893, a reporter* traveled south to investigate "the trapper of Smelt Pond." The story that followed – published on March 17, 1893 then reprinted in the Kingston News a few weeks later – romanticized the recluse with quaint, yet peculiar anecdotes.  He slept in a molasses barrel, renounced society over an unrequited love, and shot game with a muzzle-loader that had belonged to Daniel Webster, a friend of Dan's brother Samuel.  Dan "educated" an owl for a pet and shot his own dog when " 'he got so dainty he wouldn't eat raw potato skins.  Didn't have any use for a dog such as that'."
After moving out of the hogshead, Dan lived in a 12' x 6' hut, a former shoe-shop on Wapping Road later moved deep into the woods between Elm Street and Ring Road. He kept count of snowstorms with tick marks on one "greasy black" wall, and the number of mice caught on another. He festooned his small room with garlands of duck egg shells. What money he earned came from bounties on crows and woodchucks, once netting $17 for 34 heads, or from ducks brought to town, "really very nice if disassociated from the grimy hands that brought them." His sustenance came from the forest, though in his later years, he did accept food, wood and tobacco from friends. The reporter noted that the hermit's "piercing black eyes" turned sociable when presented with a gift box of fruit and bread.
The next piece of evidence appeared in response to the article: an unknown friend of Dan's wrote to the editor that "there was no unrequited love in his case. He was a born son of the forest to begin with," sleeping on a bed of leaves at 5 years old.  His family was "old fashioned even for them days 1820."  Consider Fuller allowed his children to roam the woods, counting them every Sunday and "if they was all there or was not missing two Sunday mornings in succession, he was satisfied."  Daniel's defender noted that he made his living from the wilderness, selling furs and skins, wild honey and feathers for pillows, and stated that "Daniel cannot care for tomorrow."
The last document is a semi-anonymous letter dated February 6, 1935, from Katie in Canton to her Aunt Addie recounting Roger's memories of Dan the Hermit, including the well-told tale that he never washed.  There is not much more detail, but the letter does show that the hermit's story was still in living memory more that 30 years after his death.  As late as 2003, the foundation on which Dan's "rude hut" sat could still be seen, deep in the woods of Kingston.  Those stones, along with a yellowed clipping, a two page recollection and a single letter are all that remain to tell the tale.
*Emily Fuller Drew, who transcribed the article in 1938, believed it was written by Elroy Sherman Thompson, newsman, editor and publisher of the Kingston News.
Sources: Vertical File: Dan Fuller; Town Clerk's Reports; Vital Records of Kingston to 1850.