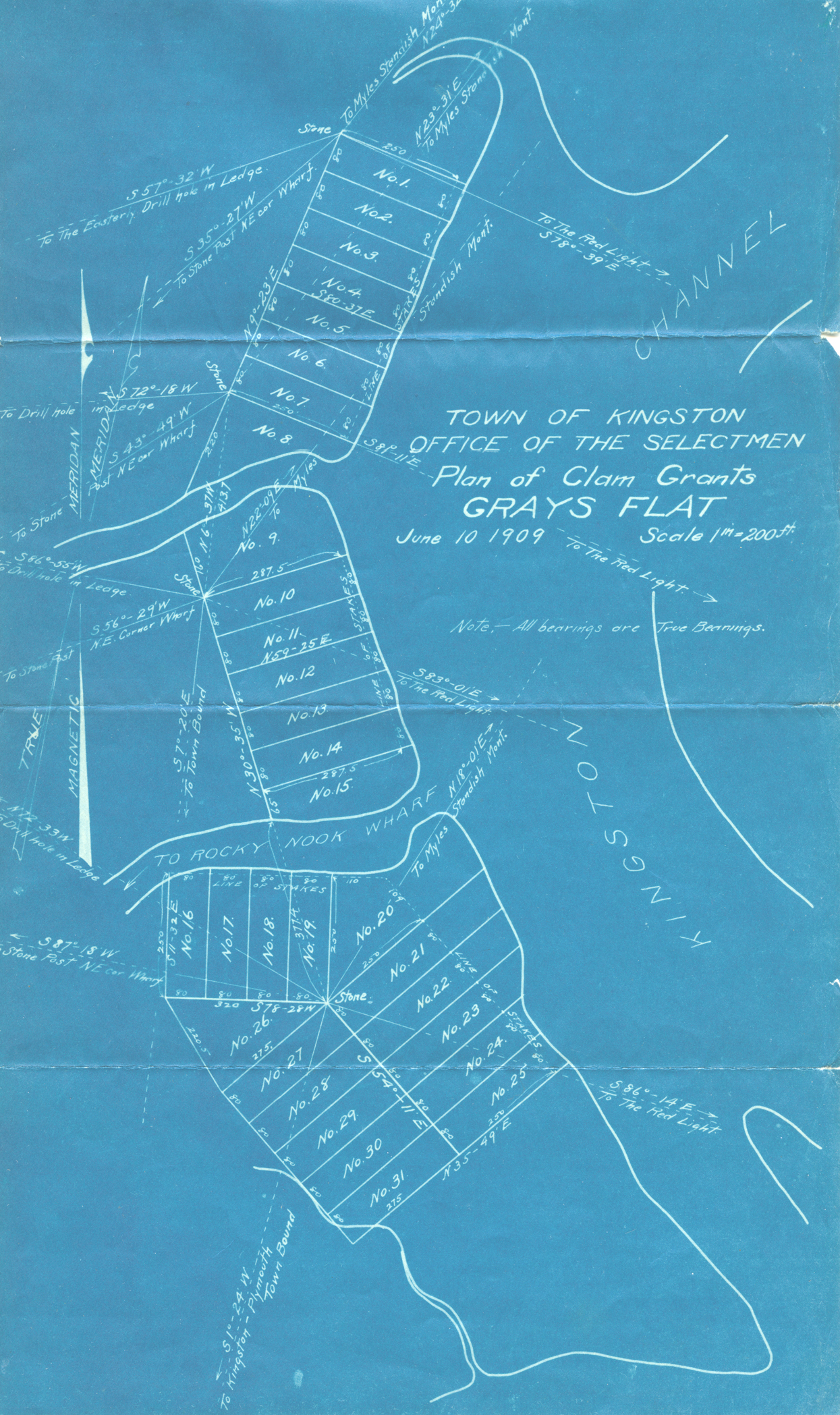 Throughout the 1800s, Kingston, along with Plymouth and Duxbury, provided clams to cod fisheries all along the Massachusetts coast. Clams were sold fresh for bait in the winter months, or steamed, salted and barreled for summer use. The region produced as much as 100,000 bushels a year. Around 1875, the shellfish – steamed and fried – became a sought-after delicacy, not only for New England clam bakes and shore dinners, but also in fancy restaurants in Boston, New York and Chicago for restaurants. Closer to home, shellfish
With Chapter 195 of the Acts of 1870, Massachusetts allowed towns to regulate shellfishing. In 1909, licenses to culture and harvest clams were issued by the Selectmen of Kingston, and the Bay floor was divided among the lucky license holders. The first license was issued to Fred Bailey for "one-half acre more or less." The division of Gray's Flats can be seen on the blueprint above.
During the 1920s, outbreaks of typhoid fever were traced back to local shellfish and many beds were closed. Some Kingston clam flats have remained closed since that time, while other areas were harvested into the 1970s. As the towns around Kingston, Duxbury and Plymouth Bays grew, pollutants increasingly affected the ecosystem, and shellfishing became hazardous. By 2002, however, efforts to decrease storm drain runoff and regulate septic systems had lowered pollution levels enough to allow Kingston Bay to be seeded with seven tons of cherrystones, quahogs, little necks and soft shell clams. In 2009, Kingston were again issued shellfish licenses, almost 100 years to the day after the original licenses were granted. Aquaculture is a new, and newly revived, industry in Kingston and surrounding towns.